Talent Acquisition Specialist
Tel Aviv
About The Position
Who are we?
MINDSPACE is a rapidly growing global provider of beautiful and inspiring workspaces for teams of all sizes: entrepreneurs, freelancers, growing startups, designers, service providers, and more. We offer flexible membership options, services, and benefits to our members so that they nurture their businesses in a workspace that is a community and not just an office.
Our sleek and beautiful spaces provide hassle-free comfort and convenience so our companies can focus on what's important – their growth and development. With stunning meeting rooms, communal kitchens, dedicated services, and expertly thought out design, you'll love your new space. FOR PEOPLE WHO LOVE TO BE INSPIRED.
We are Hiring!
Want to join our team? We're on the lookout for a Talent Acquisition Specialist. This full time position is based in Tel Aviv and entails being an active player in the recruitment process of potential talents. You will be part of the Global Mindspace HR Team, and will take charge of full-cycle recruiting processes in the organization. An ideal candidate will have a deep understanding of HR processes and should possess a strong ability to screen and interview candidates.
The main responsibilities of a Talent Acquisition Specialist at MINDSPACE include (but are not limited to):
Creating talent pipelines and sourcing passive candidates
Defining, coursing, and hiring the best, most suitable talent
Maintaining relationships with candidates to ensure an overall positive experience
Requirements
Experience & Minimum Qualifications:
Bachelor Degree – a must
Proven sourcing skills- a big advantage
Experience with social networks such as Twitter, LinkedIn & Facebook
Experience building and utilizing sourcing plans
Global recruiting experience - a big advantage
Strong communication skills in English – a must
Critical Competencies for Success:
You must have strong (oral & written) communication skills
HR is all about people - strong teamwork abilities and interpersonal skills are a must for someone who will be actively interacting with talent!
You must be a fiercely independent worker who is proactive, innovative and able to think outside of the box; Creativity is key!
Every day should be viewed as a new opportunity to showcase high levels of energy & motivation – this is your chance to shine and show off your drive and enthusiasm with pride!
You should be able to effectively manage time and know how to prioritize tasks under a time-crunch: don't give in when the going gets tough!
Excited about MINDSPACE; you are ready to live, eat and breathe MINDSPACE, spreading the love to everyone you encounter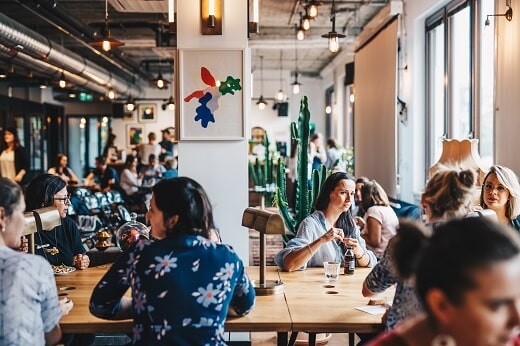 Join us!
Our benefits include marvelous weekly happy hours, discounts at various restaurants, lectures and events hosted by influential leaders or companies, and more!