Global Employee Experience Manager- Replacement for Maternity Leave
Tel Aviv
About The Position
Imagine your dream office... Now, try again.
Mindspace is a rapidly growing global provider of inspiring workspaces for teams of all sizes. Our community consists of enterprise companies and established startups, as well as small businesses, entrepreneurs, and creative freelancers. With members in more than 34 locations across 7 countries, we are setting the gold standard for flexible workspaces around the world.
Who is the Global Employee Experience Manager?
This role, reporting to VP HR, is responsible for creating, planning and executing employee experience plans and initiatives globally. As the Global Employee Experience Manager, you will be leading the company's annual welfare plan, create and maintain relationships with the global team, manage annual budgets, and execute engaging initiatives that will create an influential experience across all regions.
Your day at Mindspace
With a passion for innovative welfare programs and strong communication and execution skills, you will create an all-around amazing experience for Mindspace employees. You will work with internal and external stakeholders in order to execute annual plans and enhance employees' engagement across all regions. You will be the heart and soul of our diverse team by being proactive and paying attention d to employees' needs.
You will be responsible for:
Execute innovative, trendy and relevant yearly global experience plans that match our fast paced work environment and culture needs.
Manage and oversee the global annual budget.
Execute every aspect of the company's welfare events while communicating with all the relevant internal and external parties.
Work closely with the global management team in order to manage their regions' well-being holistic plan and ensure the varying employees' needs are met.
Manage employees' general wellbeing, which includes welcoming new employees, internal communication, life cycle gifts, etc.
Manage @lifeatmindspace Instagram account: create relevant content, distribute and analyze results to maximize engagement.
Use data and analytics to assess the effectiveness of employee experience initiatives and provide recommendations to improve future strategies.
Requirements
Do you have the following experience?
2+ years of relevant experience in a similar position in a High Tech company/young startup
Flexible and able to work in a fast-paced, entrepreneurial, and demanding environment
Excellent time management skills and ability to multitask and prioritize work
Highly organized with attention to detail and an outstanding work ethic
Always willing to 'roll up the sleeves' and do what it takes to get the job done
Great communication skills: written and verbal
Service-oriented, positive, proactive and solution-focused attitude
Strong project management skills
High level of English
Critical Competencies for Success:
HR is all about people - strong teamwork abilities and interpersonal skills are a must for someone who will be actively interacting with talent!
You must be a fiercely independent worker who is proactive, innovative, and able to think outside of the box; creativity is key!
Every day should be viewed as a new opportunity to showcase high levels of energy & motivation – this is your chance to shine and show off your drive and enthusiasm with pride!
You should be able to effectively manage time and know-how to prioritize tasks under a time crunch: don't give in when the going gets tough!
You are ready to live, eat and breathe Mindspace, spreading the love to everyone you encounter.
Mindspace is an equal opportunity employer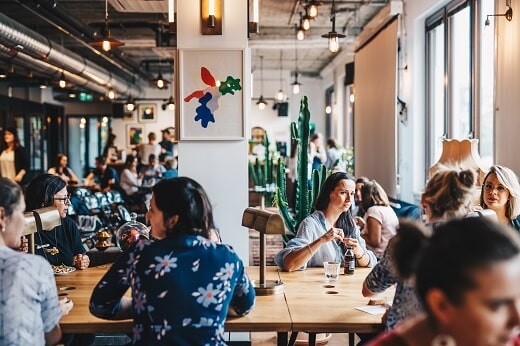 Join us!
Our benefits include marvelous weekly happy hours, discounts at various restaurants, lectures and events hosted by influential leaders or companies, and more!