Director of IT
Tel Aviv
About The Position
Imagine your dream office... Now, try again.
Mindspace is the rapidly growing global provider of inspiring coworking space for teams of all sizes. Our community consists of enterprise companies and established startups, as well as small businesses, entrepreneurs and creative freelancers.
Who is the Director of IT?
This full time position is based in Tel Aviv. The chosen candidate will be leading Mindspace's global IT efforts and will be responsible for guiding the Global IT team. This candidate will be responsible for implementing Mindspace Technology vision, systems and processes.
Your day at Mindspace:
As the IT Director, you will be responsible for all aspects of Mindspace technology, support, and infrastructure operations, for making sure that things are running smoothly at all times worldwide, improve process effectiveness & efficiency of Mindspace IT infrastructure and ensure the streamlined operation of the IT in Mindspace, and manage all of Mindspace's IT security practices.
What will you be responsible for:
- Overall planning, organizing, and execution of all information systems and technologies functions globally. This includes directing all Information Systems and IT operations to meet the organization's needs and requirements as well as the support and maintenance of existing applications and development of new technical solutions.
- Supporting Global day to day IT operations, support, guiding and developing the local IT Support Engineers in every Mindspace site worldwide.
- Leading the definition of the architectural platform for all infrastructure areas and ensure that the implementation of systems meets the architectural specification
- Strategy planning and maintaining the technical Mindspace sites infrastructure (including hardware, software, servers, storage solutions, networks, or physical facilities) that supports company business needs
- Enhance the member experience and improve/streamline our Technology Services, processes, and workflows.
- Preparing various documentation and reporting for­­­­ the purpose of backing up Mindspace business needs.
- Manage and continually enhance Mindspace's InfoSec requirements and best practices.
- Automate, improve, Mindspace processes and tasks.
- Support, maintenance, audits, installations, ongoing execution, inc. security and compliance exec.
- Security and compliance: CISO, Rules, procedures, policies, e.g. GDPR
Requirements
Requirements:
Do you have the following experience?
- 5+ years technical experience
- 4+ years of managerial experience
- 3+ years managing IT Security in a corporation
- Bachelor's Degree or relevant experience
- Ability to negotiate important, complex, non-routine issues and/or contracts
- Experience in Cisco network infrastructure setup and maintenance
- Experience with Meraki systems - advantage
- Ability and willingness to operate in both a 'hands-on' and strategic capacity as required
- Workflow automation experience - must
- Excellent English skills verbal and written - must
- Strong web-literacy skills - must
- Experience with Ticket systems and collaboration platforms - must
Critical competencies for success:
- Multitasking is a must; You must be able to balance multiple projects at once and adhere to deadlines (strong time management skills are key)
- Strong decision maker: You need to be able to make conscious, responsible decisions on a whim when things don't go according to plan
- You must be a thorough, self-aware worker who is able to recognize errors when made, and to take the necessary steps to correct them
- Getting the job done – no matter the cost, is critical. You should be a practical, creative, quick-thinker who is constantly on their feet and aware that others are counting on you!
- A problem solver – you are a highly resourceful thinker who is quick on their feet and a fast learner
Please submit your application in English.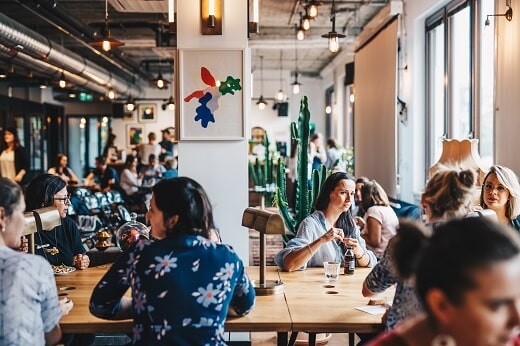 Join us!
Our benefits include marvelous weekly happy hours, discounts at various restaurants, lectures and events hosted by influential leaders or companies, and more!