Marketing Operations Manager
Tel Aviv
About The Position
Imagine your dream office... Now, try again.
Mindspace is the rapidly growing global provider of inspiring flexible spaces for teams of all sizes.
Our community consists of enterprise companies and established startups, as well as small businesses & freelancers.
Who is the Marketing Operations Manager?
This full time position is based in Tel Aviv. You will play a vital role in the marketing department, supporting business goals by leading technology, data and analytics. You will be responsible for the maintenance, support and optimization of Mindspace's technological products and systems.
Your day at Mindspace will include:
The operation of Marketing processes, specifically the Lead Lifecycle Management, including execution, maintenance and improvement of processes to optimize lead flow through the funnel.
The operation of Mindspace products & systems - ensuring our customers and employees have a seamless experience working with our products, as well as ensuring performance of our software applications.
What will you will be responsible for:
Manage Mindspace' marketing automation platform and processes
Keep us on track with goals: monitor, measure, and analyze the effectiveness of marketing initiatives and programs.
Deliver key insights and recommendations, optimizing performance of our marketing programs and campaigns. Manage reports and dashboards in order to determine the overall performance of the demand-gen team and programs.
Creating marketing-sales alignment on key processes and programs, such as ABM campaigns, funnel optimization, lead scoring and lead follow-up
Own all aspects of the Marketing tech stack and related processes, including attribution, data enrichment, lead nurturing and CRM enhancements
Make sure our in-house and outsourced developed products continue to function as intended. Provide support and ongoing maintenance as needed.
Requirements
Do you have the following experience?
At least 2+ years of marketing operations experience (B2B preferred), and experience in technical support - MUST
Hands-on experience with marketing automation (Hubspot - advantage) and Salesforce
Deep understanding of demand generation, revenue attribution, and customer lifecycle
Strong analytical skills, proficiency in marketing measurement and reporting
Managing website back office and ongoing maintenance, development and performance
High proficiency with excel
Experience creating advanced attribution models – advantage
Critical competencies for success:
Tech lover
Good written and verbal communication skills, with excellent English
A fiercely independent worker who thrives in a fast-paced work environment
Are you detail-oriented and highly organized? Good - we need someone focused and reliable
A problem solver - you are a highly resourceful thinker who is quick on their feet and a fast learner
Strong decision maker: You need to be able to make conscious, responsible decisions on a whim when things don't go according to plan
Multitasking is a must; You must be able to balance multiple projects at once and adhere to deadlines (strong time management skills are key)
You are a team player, with strong interpersonal skills, who adapts well
Mindspace is an equal opportunity employer
Please submit your application in English.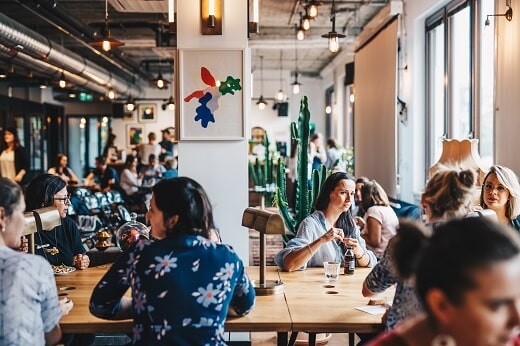 Join us!
Our benefits include marvelous weekly happy hours, discounts at various restaurants, lectures and events hosted by influential leaders or companies, and more!