Marketing Lead - replacement for maternity leave
Tel Aviv
About The Position
Location: Ahad Ha'am, Tel aviv
Imagine your dream office... Now, try again.
Mindspace is a rapidly growing global provider of inspiring flexible spaces for teams of all sizes. Our customer base includes blue-chip companies, enterprises, and SMBs, in over 40 locations, 16 cities and 7 countries across Europe and the US.
Marketing Lead (Team Leader position) - Maternity leave
Mindspace is looking for a seasoned marketing leader with diverse marketing experience, who is savvy, methodical, creative and has experience managing marketing teams. The ideal candidate will be a professional expert who is passionate about the startup ecosystem, innovation, the future of work, and lifestyle. This full-time position will be based in Tel-Aviv at Mindspace HQ offices.
Responsibilities
Manage a team of field marketing professionals. Recruit, onboard, provide direction, guidance, and leadership.
Design and oversee Mindspace's local marketing activities and advertising efforts to drive sales and build brand awareness.
Lead go-to-market and launch activities for new Mindspace locations worldwide as well as new offerings, including market analysis, messaging, launch plans, budgets, and execution
Oversee all lead-generation programs for all Mindspace locations, offerings, and services.
Drive Mindspace's presence at major conferences, tradeshows, and startup events
Lead the creation of collateral for Mindspace's offerings: presentations, campaigns, demos, videos, sales enablement tools, etc.
#LI-Onsite
Requirements
Experience & Minimum Qualifications:
4+ years in global marketing management roles - a MUST;
Experience from a luxury brand or startup – a plus
Full writing fluency and a great command of English - a MUST
Experience in online advertising and lead generation campaign management - a MUST
Proven experience in managing a marketing team and marketing campaigns
Familiar with CRM/Marketing automation software such as SalesForce and HubSpot - a plus
Critical Competencies for Success:
Management and leadership skills
You're an ace in execution with an ability to define and execute marketing programs, processes and deliverables on your own
You understand business dynamics, including strategy, revenues & costs, value proposition, sales pipeline, competition, and differentiation
You're analytical and understanding data and numbers, but also branding, messaging and emotional drivers.
A problem solver – you are a highly resourceful thinker who is able to provide insightful, innovative solutions to any problem. You're proactive in finding solutions rather than get stuck on problems
You are a mover & shaker, with strong interpersonal skills, who adapts well to a dynamic and fast-paced environment.
Using technology in your work is easy for you – including Windows, MS Office (and especially PowerPoint), Google apps, social networks tools, task management tools, etc. Mastering a new tool takes you no time
You're a strong team player who is also capable to work independently in an effective manner
You're excited about Mindspace after conducting your research on who we are and what we do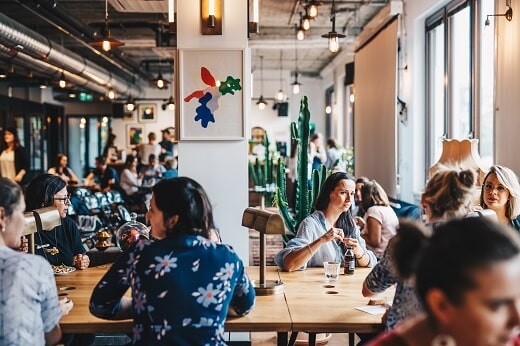 Join us!
Our benefits include marvelous weekly happy hours, discounts at various restaurants, lectures and events hosted by influential leaders or companies, and more!