Facilities Manager - replacement for maternity leave
San Francisco
About The Position
Imagine your dream office... Now, try again.
Mindspace is a rapidly growing global provider of inspiring workspaces for teams of all sizes. Our community consists of enterprise companies and established startups, as well as small businesses, entrepreneurs, and creative freelancers. With members in more than 40 locations across 7 countries, we are setting the gold standard for flexible workspaces around the world.
Who is the Facilities Manager?
This full-time position is based in San Francisco, reporting directly to the US Facility Manager. You will be overseeing all operational aspects of our buildings in San Francisco. You will wear multiple hats and lead multiple functions, including maintenance, facilities, health & safety, and security.
Your day at Mindspace
As the Facilities Manager, you will be responsible for the management of Mindspace's operations in our San Francisco location. You will make sure our facilities are running smoothly and efficiently at all times, and maintain ongoing communication with our various vendors and contractors. In addition, you will be working with our Community and Sales teams, making sure members' satisfaction is high.
What you will be responsible for, mainly:
Management & oversight of the building systems maintenance and building cleaning of the San Francisco location
Drive process and standards to ensure compliance with local, state, and local regulations, accreditation, and regulatory agencies
Manage and track preventive and corrective maintenance programs including but not limited to equipment and facilities
Negotiate terms with large facilities services providers, professionals, and contractors. Managing and maintaining the relationship with them, and making sure deliverables are executed at a satisfactory quality level and on time.
Drive the strategy for effective planning and scheduling of critical maintenance to achieve timely completion of work and minimal disruption to business operations.
continuously evaluate facilities process inefficiencies and recommend improvement measures
Oversee construction projects
Conduct periodic quality checks to ensure that operations policies and procedures are practiced and current
Play a key role in providing feedback to development on issues that prevent facilities from operating effectively
Be the first point of contact for large facility maintenance emergencies
Be the point of contact with the landlords and for making sure that we comply with all regulations and contracts
Create maintenance protocols to ensure smooth activity of all related issues.
Handle building security, access control, CCTV, security companies, etc.
Support, coordinate, and interact seamlessly with different teams, such as the sales team & community team
Requirements
Do you have the following experience?
Minimum of 3 years of experience in Facility Management - a must
Hospitality background - Strong advantage
Basic knowledge of security systems, IT, and AV equipment
A problem solver with exceptional project management skills and multitasking abilities
Proactive, independent, and a team player
Critical competencies for success:
Be a great communicator, able to convey messages in a clear and concise manner
Entrepreneurial spirit and a passion for working in a dynamic and spirited environment could come in handy
To cope with all the responsibilities, we would need someone of high integrity who is flexible, dependable, responsible, independent, and empathetic
You must be a thorough, self-aware worker who is able to recognize errors when made and to take the necessary steps to correct them
Motivation and strong work ethics would get you very far
A problem solver – you are a highly resourceful thinker who is quick and a fast learner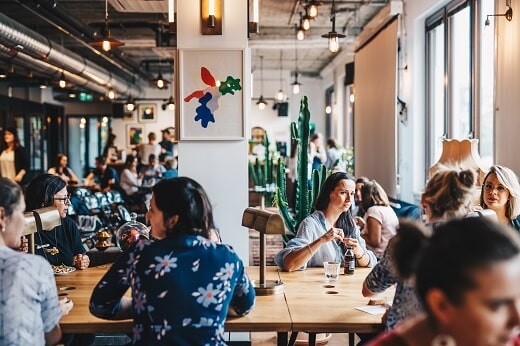 Join us!
Our benefits include marvelous weekly happy hours, discounts at various restaurants, lectures and events hosted by influential leaders or companies, and more!