Marketing & Social Media Coordinator
Rothschild
About The Position
Imagine your dream office... Now, try again.
Mindspace is a rapidly growing global provider of inspiring flexible spaces for teams of all sizes. Our customer base of over 15000 members worldwide includes blue-chip companies, enterprises and SMBs, in 31 locations, 16 cities and 7 countries across Europe and the US.
Who is the Marketing Coordinator?
This entry level reports to the Brand and Content Marketing Lead and has a close interaction with Mindspace's global team of Community Managers. As a Marketing Coordinator your main responsibilities will be to manage all aspects of our social media channels, such as creating engaging on-brand posts, answering messages and referring leads internally. You'll need to have strong project management skills to pre-plan your posts as well as analyze their performance. In addition, you'll provide brand and content-related support.
Your day at Mindspace
You will work with internal and external stakeholders to create social posts that convey the brand identity, engage existing customers and inspire potential customers. You will lead our social media efforts and constantly work to enhance our brand presence, and you'll regularly activate Community Managers to engage our community. You need to make sure to be on top of your channels at all times to echo and engage.
You will be responsible for:
Social media management
Own and manage social media calendar.
Create and schedule social media posts, aligned with Mindspace's ongoing activities and messaging focus.
Understand the company's brand identity and tone of voice in order to adapt your content to the relevant target audience and channels.
Analyze the performance and engagement of your posts and adapt accordingly.
Building strong relations with Community Managers
Initiate and/or lead various activities with the help of Community Managers to create engaging content for your channels.
Build a strong connection with Community Managers and ensure there's a two-way information sharing process between you.
Google My Business
Upload and update images regularly to make sure the location pages are showing our brand in the best way possible.
Answer and keep track of reviews and inform the relevant stakeholders.
Creative
Create creative assets for your social posts (GIFs, images, videos).
Create compelling and fun assets that will be displayed on the TV screens on site (customer-facing).
Brand and Content
Together with your manager you'll be responsible for making sure all customer-facing and internal communications are on-brand and pushing the right messages forward.
Support projects related to brand and content.
Requirements
Do you have the following experience?
Extensive knowledge and experience of social media platforms (Facebook, Linkedin, Instagram, Twitter, Youtube, Pinterest etc.)
Bachelor's degree in communications, public relations, social media management, marketing or related field
Relevant project management experience
Excellent communication, interpersonal, writing, creative and project management skills
Experience with Marketing Automation such as Hubspot or Marketo (we use Hubspot), or social media automation tools, as well as Wordpress CMS - advantage
Experience working with MS Office, G-Suite or similar software.
Native English speaker (must)
Critical competencies for success:
A storyteller at heart. You love playing with words and finding the right phrasing to motivate and evoke emotion with people
You should be a great team player with good interpersonal skills
Don't sit back and expect to be told what to do – be a proactive individual
Organized and detail-oriented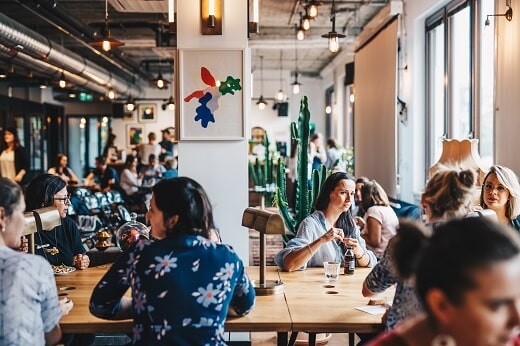 Join us!
Our benefits include marvelous weekly happy hours, discounts at various restaurants, lectures and events hosted by influential leaders or companies, and more!