Director of Corporate Development
Rothschild
About The Position
Imagine your dream office... Now, try again.
Mindspace is the rapidly growing global provider of inspiring coworking space for teams of all sizes. Our community consists of enterprise companies and established startups, as well as small businesses, entrepreneurs, and creative freelancers.
Who is the Director of Corporate Development?
Mindspace is looking for a Director of Corporate Development to support the company's strategic planning through growth and development initiatives. This is an exceptional opportunity to join our team in Tel Aviv and work closely with the company's CEO and management team. The Director of Corporate Development should be an expert in managing multiple projects, departments, and outside consultants. Creative analysis, independent thought, and a proactive approach to adding value to the organization are key elements of this position.
Your day at Mindspace
Reporting to the CEO, the Director of Corporate Development is responsible for establishing strategic partnerships and new lines of business, achieving operational excellence, executing mergers and acquisitions, and supporting capital raising activities.
What you will be responsible for, mainly:
Strategic Planning - serve as an integral member of the company's strategic planning effort to identify, assess, and prioritize growth opportunities
Finance - assist in capital raise and M&A processes whether independently or by working with investment banks
Market Research and Analysis - competitor analysis, Industry trends in key target markets, assessment and advancement of alternative business models
Creating presentation materials for executive management, potential partners, investors, and customers
Improvement of internal processes - work across departments to align teams, set goals, execute initiatives, and improve processes — helping the organization run efficiently and effectively
Requirements
Do you have the following experience?
Bachelor's Degree Required, Master's degree in business or equivalent preferred
3-5 years' experience in global consulting/investment banking firms
Strong quantitative data analysis skills and excellent analytical and problem-solving skills
Must demonstrate the ability to work in a team environment and willingness to assume additional or new responsibilities readily
Excellent communication (both oral and written), interpersonal and organizational skills
Ability to prioritize and multitask in a fast-paced, changing environment and be detail-oriented
Critical Competencies for Success:
Don't let rules confine you – thinking outside the box is necessary at such a role in such a dynamic environment
You must be a great communicator who is able to clearly convey messages in written and oral form and is comfortable presenting ideas in front of a crowd
Are you detail-oriented and highly organized? Good - we need someone who is highly analytical, detail-oriented, process-driven (and able to balance it all on one plate)
You should be very adaptable and able to thrive in a fast-paced environment where change is a constant and rules are often changing
Maintain an entrepreneurial spirit and constant thirst to learn more
Excited about MINDSPACE; you are ready to live, eat and breathe MINDSPACE, spreading the love to everyone you encounter
Mindspace is an equal opportunity employer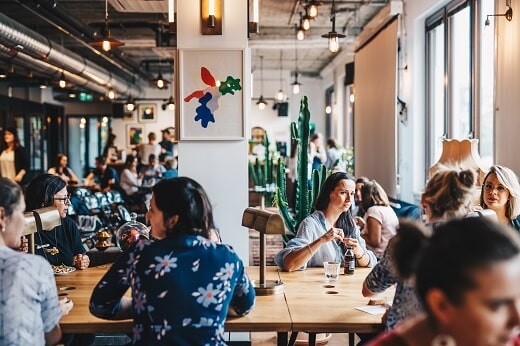 Join us!
Our benefits include marvelous weekly happy hours, discounts at various restaurants, lectures and events hosted by influential leaders or companies, and more!