Talent Acquisition Specialist
Rothschild
About The Position
Imagine your dream office... Now, try again.
Mindspace is a rapidly-growing global provider of inspiring coworking and flexible office space for teams of all sizes. Our community consists of enterprise companies and established startups, as well as small businesses, entrepreneurs and creative freelancers.
Who is the Global Talent Acquisition Specialist?
This full-time position is based in Tel Aviv. The Talent Acquisition Specialist is an active player in the recruitment process of potential talents. You will be part of the Mindspace HR Team and will take charge of full-cycle recruiting process in the organization. An ideal candidate will have a deep understanding of HR processes and should possess a strong ability to find top talents for Mindspace. Demonstrated experience leading recruiting campaigns is a must!
Your day at Mindspace:
You will collaborate with department managers in all levels on a regular basis and proactively identify future hiring needs. With this position you will be interviewing, attracting and hiring of talented people into Mindspace. If you are passionate about connecting people with amazing jobs, this role is for you!
What you will be responsible for, mainly:
Leading the full-cycle recruitment process alongside hiring managers
Creating, managing, and improving recruiting processes globally
Defining, coursing, and hiring the best, most suitable talent
Maintaining relationships with candidates globally to ensure an overall positive experience
Requirements
Experience & Minimum Qualifications:
BA in Human Resources, Psychology, or any other related field
2+ years experience as a hands-on recruiter
Experience with Global recruitment - an advantage
Proven sourcing skills
Experience with social networks such as Twitter, LinkedIn & Facebook
Strong communication skills in English – a must
Critical Competencies for Success:
HR is all about people - strong teamwork abilities and interpersonal skills are a must for someone who will be actively interacting with talent!
You must be a fiercely independent worker who is proactive, innovative and able to think outside of the box; Creativity is key!
Every day should be viewed as a new opportunity to showcase high levels of energy & motivation – this is your chance to shine and show off your drive and enthusiasm with pride!
You should be able to effectively manage time and know how to prioritize tasks under a time-crunch: don't give in when the going gets tough!
Excited about Mindspace; you are ready to live, eat and breathe Mindspace, spreading the love to everyone you encounter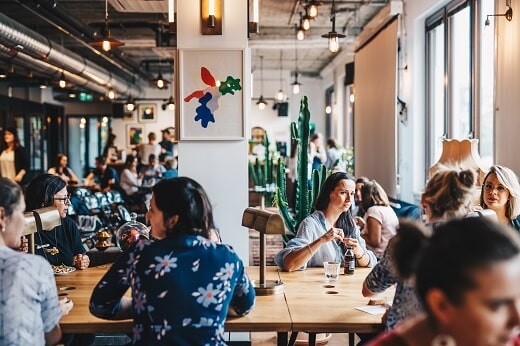 Join us!
Our benefits include marvelous weekly happy hours, discounts at various restaurants, lectures and events hosted by influential leaders or companies, and more!