Global Customer Experience Lead
Rothschild
About The Position
About Mindspace
Mindspace is a boutique flex space provider, presenting a global mindset with a local flavor. We redefine the workplace experience for companies of all sizes. Our beautifully designed spaces, personalized level of service and carefully curated events foster enhanced employee engagement and a strong sense of community, accommodating the way people work, innovate and grow. Our customer base includes blue-chip companies, enterprises and SMBs, in 31 locations, 16 cities and 7 countries across Europe and the US.
Who is the Global Customer Experience Lead (CX Lead)
Mindspace is looking for an energetic, hands-on and creative individual. This person will be responsible for delivering excellent experiences to our members by providing a high-quality hospitality-driven work environment. Ideal candidates will have the know-how and passion to deliver a first-class service, as well as the ability to multitask and to handle matters both big and small. This full-time position is based in our HQ in Tel Aviv.
Your day at Mindspace.
The Global CX lead will have vast experience in establishing the standards and processes for member (customer) engagement within global companies and will work closely with the company's management team on new hospitality and CX initiatives to be implemented across the Mindspace network.
What you will be responsible for, mainly:
Collaborate with the executive team in setting the vision, strategies and work plans to enhance the customer experience to make Mindspace a market leader and be ahead of the competitive set.
Identify and develop new customer experience initiatives and take ownership over execution and rollout of projects such as F&B activities, events management, partnerships and benefits, etc.
Provide leadership and direction to community managers to ensure that all matters are handled in accordance with the company's guidelines and standards
Oversee the quality, consistency, presentation and service in all of Mindspace's touch points with its members to ensure that they conform to Mindspace's standards and meet or exceed customer expectations.
Responsible for measuring and reporting of members' satisfaction and delivering monthly findings and action plan to the executive team
Requirements
Do you have the following experience
6+ years of experience in hospitality (F&B, Hotels)
Previous experience in overseeing all aspects of a guest stay at a hospitality provider including F&B programming, concierge service, room/office amenities, etc.
Experience designing member and customer experience initiatives
3+ years of customer service experience as a manager.
Conducting learning and development training
Experience with facilities management - advantage
Strong organizational skills
Strong project management skills
Strong communication skills in Hebrew and English – a must
Critical competencies for success:
It's all about the people! be always attuned to people's needs and being customer-centric
Getting the job done is critical. You should be a practical, creative, fast-thinker who is constantly on his feet and aware that others are counting on you
You should be a results-driven individual who, with very thorough processes, is a great methodologist
Multi-tasking should be a breeze for you
Be familiar with the startup ecosystem
Fired up about Mindspace; you are ready to live, eat and breathe Mindspace, spreading the love to everyone you encounter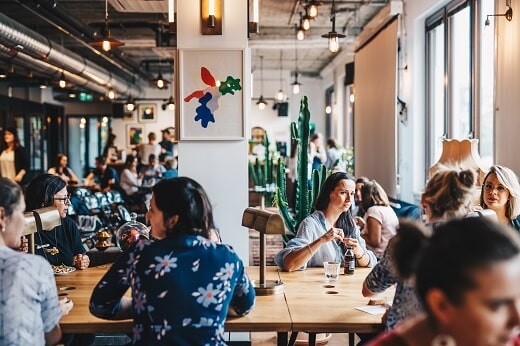 Join us!
Our benefits include marvelous weekly happy hours, discounts at various restaurants, lectures and events hosted by influential leaders or companies, and more!