Community Experience Manager
Petah Tikva
About The Position
Imagine your dream office... Now, try again.
Mindspace is a rapidly growing global provider of inspiring workspaces for teams of all sizes. Our community consists of enterprise companies and established startups, as well as small businesses, entrepreneurs, and creative freelancers. With members in more than 40 locations across 7 countries, we are setting the gold standard for flexible workspaces around the world.
Who is the Activate Experience Manager?
The Activate Manager is the pioneer of Mindspace's new project, 'Activate', piloting at Ofer Park in Petah Tikva. We are expanding our horizons and offering all of the benefits of being a Mindspace member to business centers. Business centers will enjoy glamorous events, a holistic wellness program, networking and professional development. The Activate Manager is everyone's best friend, the person who naturally makes meaningful connections and brings sunshine into every room. They will be responsible for building a thriving community of workers through fun events, networking, workshops, partnerships and more. The position spans from executing premium events, working with all tenants of the park from executives to juniors, keeping the tenant lounge up to standard, marketing our services, and overall being the face of Mindspace in the park.
The main responsibilities of the Activate Manager at Mindspace include (but are not limited to):
Execute the annual tenant programming plan
Facilitate and coordinate tenant services (beauty, massages, etc.) with 3rd party vendors
Manage tenant communications and content around events, services and special offers through our CMS platform, Hubspot and mobile notifications
Monthly reporting (invoicing, etc.)
Work with local partners and global brands to create a unique benefits program
Ensure the smooth running of operations at the club
Man front desk during operation hours (9:00 am - 6:00 pm)
#LI-Onsite
Requirements
Experience & Minimum Qualifications:
2+ years in community management roles - MUST, from a business center/a large, diverse community - a plus
1+ years in event planning from idea to fruition - MUST
Strong oral and written communication skills in Hebrew and English - MUST
Experience in sales
Experience in social media (Facebook/Instagram)
Familiar with CRM software such as SalesForce and HubSpot
Critical Competencies for Success:
You're an ace in execution with an ability to take a vision and bring it to life
You understand business dynamics and know how to make everyone feel comfortable in a complicated business environment
Your emotional intelligence is top-notch - you can connect to any type of person
You love speaking in front of crowds, while also giving room for others to shine
A problem solver – you are a highly resourceful thinker who is able to provide insightful, innovative solutions to any problem. You're proactive in finding solutions rather than getting stuck on problems
You are a mover & shaker, with strong interpersonal skills, that adapts well to a dynamic and fast-paced environment
Using technology in your work is easy for you – including Windows, MS Office, Google apps, social networks tools, task management tools, etc. Mastering a new tool takes you no time
You're a strong team player who is also capable and loves working independently in an effective manner
You're excited about Mindspace after doing your research on who we are and what we do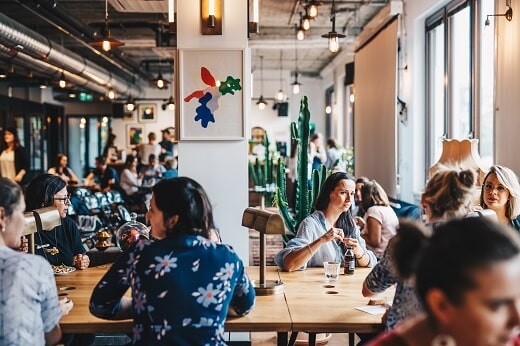 Join us!
Our benefits include marvelous weekly happy hours, discounts at various restaurants, lectures and events hosted by influential leaders or companies, and more!