Facilities & Operations Manager
Munich
About The Position
Who are we?
MINDSPACE is a rapidly growing global provider of beautiful and inspiring workspaces for teams of all sizes: entrepreneurs, freelancers, growing startups, designers, service providers and more. We offer flexible membership options, services and benefits to our members so that they nurture their businesses in a workspace that is a community and not just an office.
Our sleek and beautiful spaces provide hassle-free comfort and convenience so our companies can focus on what's important – their growth and de velopment. With stunning meeting rooms, communal kitchens, dedicated services and expertly thought out design, you'll love your new space. FOR PEOPLE WHO LOVE TO BE INSPIRED.
We are Hiring!
Are you addicted to details? A smooth operator? A serial coordinator and team leader? Want to join our team? We're on the lookout for a shining star, someone who knows how to work hard and play hard. MINDSPACE is looking for a Facilities & Operations Manager to join our growing family.
This full time position is based in Munich and reports directly to the company's management. The chosen candidate will be an integral part of our team, responsible for managing Community Managers and Field Operation Technicians (amongst others) and handling the operational facets of a Mindspace branch.
The main responsibilities of a Facilities & Operations Manager at Mindspace include (but are not limited to):
Responsibilities can be split into Pre-Opening and Post-Opening operations, as follows
Pre-Opening
Mapping and creating a base document which details all required operational processes that exist or should exist within designated Mindspace building. This includes: guest registration, cleaning, sanitation, systems (A/C, heating, IT, fire and more)
Maintaining communication with property management and ensuring that branch policies are in line with lease agreement
Procuring, negotiating, and dealing with suppliers of cleaning, printing, food & beverage, VOIP & phone, printer, and remote secretary services.
Writing protocols outlining procedures for working with suppliers, in coordination with community management
Establishing protocols that ensure smooth and eco-friendly activity of all system related issues (such as cooling systems, fire & safety, mechanical, lighting and security)
Coordinating delivery and installment of IT, printing stations, storage units, and kitchen supplies, as needed
Regulating operative procedures
Post opening
Maintaining building operations
Managing administrative & logistical needs of designated Mindspace branch
Improving upon existing procedures using relevant KPIs
Supporting business decisions through the compilement & analyzing of data and metrics
Handling communication between cross-functional teams (project management, community management, etc.) to ensure smooth workflow operations
Supporting, coordinating, and maintaining interaction with cross-functional teams to ensure operations are aligned with Mindspace corporate vision
Requirements
Experience & Minimum Qualifications
2+ years of demonstrated operational experience
BA or BS degree, in Business, Economics or related field - an advantage
High level of English – a must
Critical Competencies for Success
You must be a detail oriented person with strong multitasking abilities
Exceptional communication and interpersonal skills are essential for this role - you must have the ability to influence multiple stakeholders at various levels
The golden rule for this role? Be hands on, hand on, hands on
Are you a people's person? Good - you should be customer centric and be able to identify member's needs
Be goal oriented, a go-getter, and result driven.
A practical, fast-thinker and creative problem solver with critical thinking and analytical skills is needed to get the job done
You must be able to translate trends into actionable ways to anticipate and address customer and market needs
Be familiar with and passionate about the startup ecosystem
Excited about MINDSPACE; you are ready to live, eat and breathe MINDSPACE, spreading the love to everyone you encounter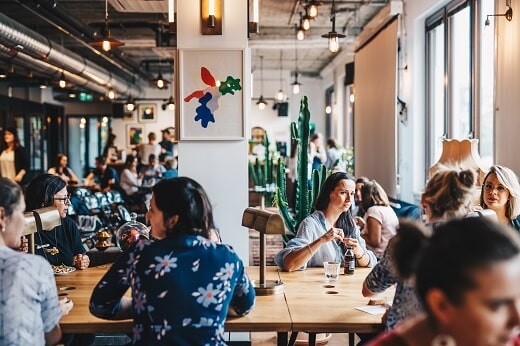 Join us!
Our benefits include marvelous weekly happy hours, discounts at various restaurants, lectures and events hosted by influential leaders or companies, and more!