Senior Community Manager
Miami
About The Position
About The Position
Imagine your dream office... Now, try again.
Mindspace is a rapidly growing global provider of inspiring workspaces for teams of all sizes. Our community consists of enterprise companies and established startups, as well as small businesses, entrepreneurs, and creative freelancers. With members in more than 40 locations across 7 countries, we are setting the gold standard for flexible workspaces worldwide.
Who is the Senior Community Manager?
Each Mindspace location has a conductor, a Senior Community Manager. This full-time position is based in Miami. You will report directly to the US General Manager. You will be running the show at your location, responsible for training and managing all community managers and community associates, being a big part of the sales and operations of your location, and setting the standard for Mindspace's immensely engaging atmosphere.
Your day at Mindspace
Every day at Mindspace is exciting, filled with new surprises, many faces, and lots of adventures. You lead by example and inspire your team to be proactive in looking after all member needs, encouraging collaboration amongst the community, and being the life of the party. You and your team must nurture the Mindspace community and help it grow.
What you will be responsible for, mainly:
100% client-facing and need to create an all-round unique customer-journey experience for every single Mindspace member
Train and grow the community management team, ongoing
Maintain ongoing communication and ensure the smooth-running operations and maintenance of your location, collaborating with the operations manager
Drive sales via strategy and goal setting and see their execution
Improve procedures using existing metrics and KPIs
The loyal point of contact for community members, solving all member-related issues.
The life of the party: establishing a solid local community via event planning and individual networking efforts
Create an inclusive environment that fosters collaboration and creativity - both internally and externally
#LI-Onsite
Requirements
Do you have the following experience?
Experience in Sales (an advantage)
Experience in Real-Estate (an advantage)
Experience in team management (a must)
Excellent verbal and written communication skills - English and Spanish
Critical competencies for success:
It's all about the people! Heading the Community Management team means always being attuned to people's needs and being customer-centric
Be able to manage a growing team in a fast-paced environment
Getting the job done is critical. You should be a practical, creative, fast-thinker who is constantly on his feet and aware that others are counting on you
You should be a results-driven individual who, with very thorough processes, is an excellent methodologist
Multi-tasking should be a breeze for you
Be familiar with the startup ecosystem and with the daily happenings of the city in which you are based
Fired up about Mindspace; you are ready to live, eat and breathe Mindspace, spreading the love to everyone you encounter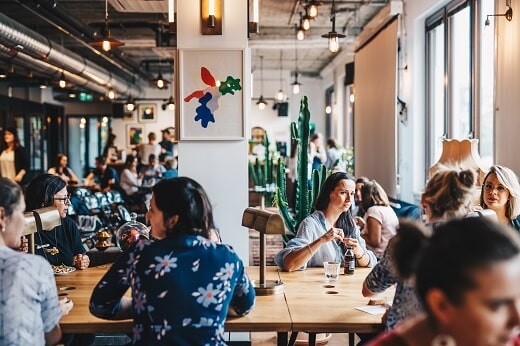 Join us!
Our benefits include marvelous weekly happy hours, discounts at various restaurants, lectures and events hosted by influential leaders or companies, and more!