Broker Relations & Sales Manager
London
About The Position
Imagine your dream office... Now, try again.
Mindspace is a rapidly-growing global provider of inspiring coworking and flexible office space for teams of all sizes. Our community consists of enterprise companies and established startups, as well as small businesses, entrepreneurs and creative freelancers.
Who is the Broker Relations & Sales Manager?
This full-time position is based in London. The role of the Broker Relations & Sales Manager is to create a strong and active pipeline from the broker market directly into Mindspace and to close the deal. They will be creating an ecosystem between Mindspace and the broker community in London that can flourish. Knowledge of the UK commercial Real Estate landscape is a plus. They will need to be self-sufficient, focused and creative. We would be looking for an energetic person who is an excellent relationship builder as well as a strategic thinker. Someone who can find opportunities and build on ideas. They will need to have the ability to create new strategic relationships and build on current ones.
Your day at Mindspace.
With strong communication skills and a passion for sales and networking, you will be responsible for driving sales opportunities from brokers across the sales funnel and equally be involved in generating leads for new sites in London and beyond. You are the POC for any broker- and agent-related areas in Mindspace. Working closely with the London Sales Manager, the General Manager for the UK, and the Global Broker Relations Lead, your main focus will be all about increasing the monthly revenue for Mindspace.
What you will be responsible for, mainly.
Manage, strategize and improve the Sales Funnel;
Attract large corporate occupiers to Mindspace;
Conduct tours and close deals for our Mindspace locations in London
Manage Broker & Agent Relationships and Partnerships to increase revenue;
Ensure Brokers always have Mindspace in mind when discussing options with relevant leads and empowering them to drive leads to the Mindspace Team;
Driving the Mindspace brand awareness across the UK market
Key account lead generation and prospecting.
Taking part in the sales strategy and working closely with the London Sales Manager to identify areas of improvement for the UK market;
Establishing and offering suitable proposals that meet customer's and broker's expectations;
Data & Competitor analysis to identify trends and forecast future strategy;
Creatively using the broker marketing budget to attract new business and promote the Mindspace brand in the London market.
Requirements
Do you have the following experience?
Experience in Pre-sale processes, market research, B2B sales;
Experience in front-line sales and Lead generation
4+ years of relevant experience in the commercial property market - a plus;
Familiar with real estate, specifically the flexible office sector - a plus;
Comfortable when interacting with senior mngt. Of brokerages & clients
Critical competencies for success.
A fiercely independent worker who does not shy away from a fast-paced, hybrid work environment;
You should be a motivated, self-starting individual with a strong work ethic, understanding how to work effectively as part of a team and to have Mindspace's best interests at heart;
You are a people person, who can foster relationships easily and maintain them for the long term;
You must be a great communicator, able to convey messages in a clear and concise manner;
You should be organized and analytical at all times;
Fired up about Mindspace: you are ready to live and breathe Mindspace, spreading the love to everyone you encounter.
Mindspace is an equal opportunity employer.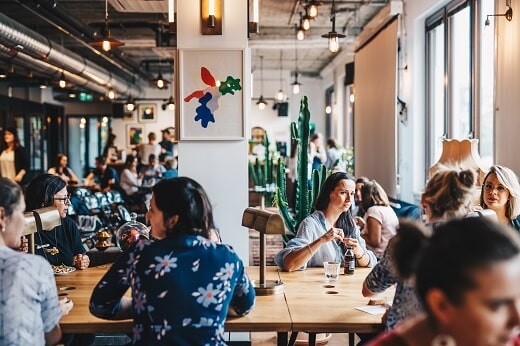 Join us!
Our benefits include marvelous weekly happy hours, discounts at various restaurants, lectures and events hosted by influential leaders or companies, and more!