Community Manager
Herzliya
About The Position
Who are we?
MINDSPACE is a rapidly growing global provider of beautiful and inspiring workspaces for teams of all sizes: entrepreneurs, freelancers, growing startups, designers, service providers and more. We offer flexible membership options, services and benefits to our members so that they nurture their businesses in a workspace that is a community and not just an office.
Our sleek and beautiful spaces provide hassle-free comfort and convenience so our companies can focus on what's important – their growth and development. With stunning meeting rooms, communal kitchens, dedicated services and expertly thought out design, you'll love your new space. FOR PEOPLE WHO LOVE TO BE INSPIRED.
We are Hiring!
Want to join our team? We're on the lookout for someone who is smiles-all-around and energetic – someone who knows how to work hard without compromising on the play-hard. MINDSPACE is looking for a Community Manager to join our growing family.
This full time position is based in Herzliya and requires that you have strong communication skills and a passion for tech. As a Community Manager, you will report directly to the Senior Community Manager and will be responsible for building and maintaining our strong, unique community – so it is integral that you be proactive and a peoples-person. You will basically be the heart and soul of our diverse community – so it's important that you stay quick on your feet and be attuned to people's needs.
The main responsibilities of a Community Manager at MINDSPACE include (but are not limited to):
Creating an all-around-amazing customer-journey experience for Mindspace members
Being the POC for your community members & solving all member-related issues
Establishing a strong community in your location via event planning and individual networking efforts
Creating an inclusive environment that fosters collaboration and creativity — both internally and externally
Ensuring the smooth-running operations of your location
Maintaining ongoing communication with operation & maintenance teams (respectively) to ensure that processes are running smoothly
Taking an active role in growing and nurturing the Mindspace community
Requirements
Experience & Minimum Qualifications:
BA - must
Demonstrated customer service and sales experience
High level of English – a must!
Strong verbal and written communication skills-
Experience in marketing, writing, or managing social media – an advantage
Critical Competencies for Success:
It's all about the people! Working as a Community Manager means always being attuned to people's needs and being customer-centric. Can you keep up?
Getting the job done – no matter the cost, is critical. You should be a practical, creative, fast-thinker who is constantly on his feet and aware that others are counting on you!
Multi-tasking should be a breeze for you...
You must be an efficient communicator who is fearless when it comes to speaking up and making your voice heard – even in front of those who are superior to you
You should be able to translate trends into actionable ways that anticipate customer and market needs
Be familiar with the startup ecosystem and up-to-date on daily happenings in your city
Fired up about Mindspace; you are ready to live, eat and breathe Mindspace, spreading the love to everyone you encounter
Mindspace is an equal opportunity employer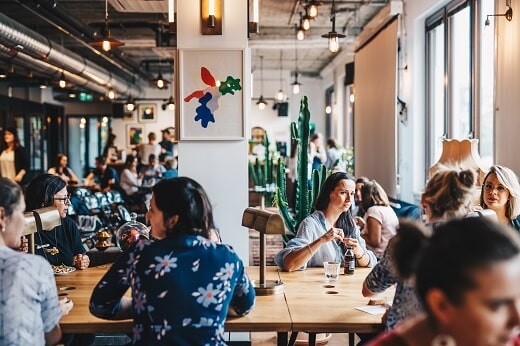 Join us!
Our benefits include marvelous weekly happy hours, discounts at various restaurants, lectures and events hosted by influential leaders or companies, and more!