Financial Bookkeeper
Berlin
About The Position
Imagine your dream office... Now, try again.
Mindspace is a rapidly growing global provider of inspiring workspaces for teams of all sizes. Our community consists of enterprise companies and established startups, as well as small businesses, entrepreneurs, and creative freelancers. With members in more than 30 locations across 7 countries, we are setting the gold standard for flexible workspaces around the world.
We are Hiring!
Want to join our team? We're on the lookout for a shining star, someone who knows how to work hard and play hard. MINDSPACE is looking for a Financial bookkeeper to join our growing family. This full time position is based in Berlin and will be responsible for all the day-to-day
bookkeeping, processing and accounting for Germany activity. The ideal candidate will have relevant experience and be extra-motivated to go above and beyond to keep books in order and in time.
The main responsibilities of a Financial bookkeeper at MINDSPACE include (but are not limited to):
Independently process the financial accounting (according to HGB)
Responsible for the management of the Account Payables and Account Receivables
Responsible for periodical reporting to the management
Involve in annual Audit, Debt Collection and revenue management of the company
Provide the construction department with financial assistance in large renovation projects
Assist the tax department in periodic tax calculations, and you are responsible for the Monthly VAT report
Requirements
Experience & Minimum Qualifications:
You have successfully completed training as an accountant or tax clerk
You have knowledge of tax law and HGB regulations
You have professional experience as accountant or financial accountant
You have good MS Office skills, especially with Excel
You have knowledge of SAP B1 – an advantage
You work independently and well-structured and we can count on your reliability
You are a team-worker
You are fluent in German and you have good English skills - a must
Critical Competencies for Success:
You must have strong data entry skills and a knack for numbers – be highly attentive to details
Good organizational skills are key to getting you far in accounting, so things don't fall out of
balance
You must be a thorough and accurate worker who is able to recognize errors when made, and
takes the necessary steps to correct them
You should be a fast-paced mover with strong interpersonal relation skills, who is able to work
efficiently both independently and in a team
Don't let rules confine you – thinking outside the box is necessary at such a role in such a dynamic environment
You must be a great communicator who is able to convey messages in a clear and concise
manner (in English and German)
Excited about MINDSPACE; you are ready to live, eat and breathe MINDSPACE, spreading the love
to everyone you encounter
Please submit your application in English.
Mindspace is an equal opportunity employer.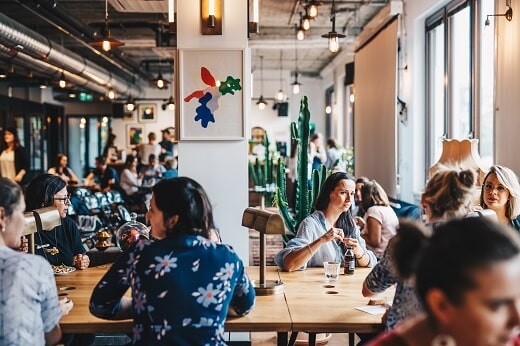 Join us!
Our benefits include marvelous weekly happy hours, discounts at various restaurants, lectures and events hosted by influential leaders or companies, and more!