Regional Sales Manager
Berlin
About The Position
Imagine your dream office... Now, try again.
Mindspace is a rapidly growing global provider of inspiring workspaces for teams of all sizes. Our community consists of enterprise companies and established startups, as well as small businesses, entrepreneurs and creative freelancers. With members in more than 34 locations across 7 countries, we are setting the gold standard for flexible workspaces around the world.
Your day at Mindspace:
As a Regional Sales Manager, you and your team within your region, will be responsible for all aspects of pre-sales and sales of our spaces, as well as customer success, retention, and upsell. You play a key role in our sales efforts throughout the whole process.
What will you be responsible for:
Pre-sale and Sales
Supervise preparations and definition of the sales plan
Clearly understand and communicate the strategic sales objectives to the sales team
Follow the sales results (account productivity, revenue, etc.) and propose corrective actions if needed
Understand the customer's needs, ensuring that solution that is provided matches customer expectations across all areas - functional, service, timeline, budget, quality, etc.
Follow up with the customer, maintaining a consistent, open channel
Work closely with the Community Manager to achieve smooth onboarding
Identify, retain and develop talent within the team. Use empowerment and give the team the chance to take initiative at all times.
Ensure all sales employees have sales targets and personal sales plans
Formulate strategies in order to run an effective sales team.
Monitor all outstanding balances on all department accounts and follow up with all professional sales team members in a timely fashion.
Customer Success - Retention and Upsell
Analyze and optimize sales targets (Office+AR) for each SMB and Enterprise customers
Work with CRM System (Salesforce) to maintain an updated customer base, Analyze sales funnels, and optimize goals
Identify new needs/challenges for the customer and forecast future expansion
Make sure any payment issues are taken care of on a monthly basis
Execute SMB retention plan
Support the customer experience team in terms of member support and service
Propose and coordinate the promotional activities undertaken by the sales department
Be flexible and adaptable in working in other key sales areas where necessary
Requirements
Do you have the following experience?
BA/BSc/MA in relevant fields
2+ years in leadership experience
4+ years of sales experience
Comfortable using CRM platforms – Salesforce experience is highly desirable
Experience working on a team and leading a team player mentality
Strong work ethic and entrepreneurial spirit
Results orientated work style, focused on delivery
Excellent communication, writing and presentation skills
Exceptional organization skills and multi-tasking skills
Strong oral and written communication skills both in German and English
A 'can do' approach!
Critical competencies for success:
Multitasking is a must! You must be able to balance multiple projects at the same time and adhere to strict deadlines (strong time management skills are a key)
A Regional Sales Manager is in charge of training, development and on the job coaching of the local sales team. This also includes succession planning and future talent banking.
Strong decision maker: you need to be able to make considered, responsible decisions on a whim, when things don't go according to plan
You must be a thorough, self-aware worker who's able to recognize errors, and take the necessary steps to correct them
Getting the job done – no matter the cost – is critical. You should be a practical, creative, quick thinker who is aware that others are counting on you!
Problem solver – you are a highly resourceful thinker who is quick on their feet and a fast learner
Ability to gain the trust and confidence of a wide range/type of customer
Ability to work independently based on targets and goals, and raise any flags in time
Ability to adjust quickly to a fast-paced, changing environment
Ability to plan ahead with a clear focus on execution
Please submit your application in English.
Mindspace is an equal opportunity employer.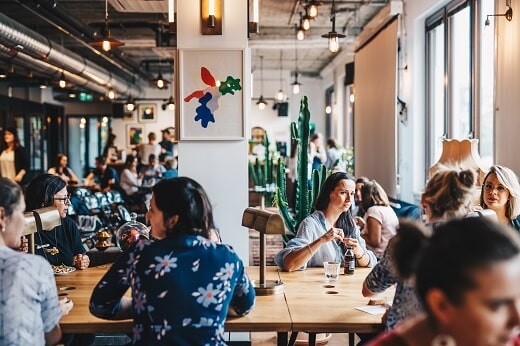 Join us!
Our benefits include marvelous weekly happy hours, discounts at various restaurants, lectures and events hosted by influential leaders or companies, and more!