Sales Manager
Amsterdam
About The Position
Imagine your dream office... Now, try again.
Mindspace is a rapidly growing global provider of inspiring work spaces for teams of all sizes. Our community consists of enterprise companies and established startups, as well as small businesses, entrepreneurs and creative freelancers. With members in more than 30 locations across 7 countries, we are setting the gold standard for flexible workspaces around the world.
Who is the Sales Manager?
This full-time position is based in Amsterdam and includes traveling between Mindspace sites in Amsterdam and weekly visits to Utrecht. you will be reporting to the Netherlands City Lead, and you will be responsible for generating revenue for Mindspace by converting leads to new clients, retaining existing ones and maintaining broker relations to increase the demand for Mindspace products.
Your day at Mindspace:
As a Sales Manager, you will be responsible for all aspects of pre-sales and sales of our spaces, as well as customer success, retention, and upsell. You play a key role in our sales efforts through the qualification of leads and deal-closing.
What will you be responsible for:
Pre-sale and Sales
● Qualify leads - convert them to tours and closed deals (inbound & outbound)
● Understand the customer's needs, ensuring that the solution provided matches customer expectations across all areas - functional, service, timeline, budget, quality, etc.
● Provide a suitable proposal offer (Office+AR), based on Mindspace guidelines
● Follow up with the customer, maintaining a consistent, open channel
● Work closely with the Community & Operations Teams to achieve smooth onboarding
Customer Success - Retention and Upsell
● Analyze and optimize sales targets (Office+AR) for each SMB customer
● Identify new needs/challenges for the customer and forecast future expansion
● Make sure any payment issues are taken care of on a monthly basis
● Execute retention plans
● Support the Customer Experience team in terms of member support and service
Broker Account Management
Engage the brokers community with our brand and ensure they always have Mindspace in mind
Create and execute a wholistic Brokers Strategy for Mindspace Netherlands
Qualify brokers' leads and convert them to closed deals
Use data & Competitors analysis to identify trends and forecast future strategies
Creatively utilizing marketing budget to attract new partnerships with brokers and promote the Mindspace brand in the Netherlands
Responsible for brokers payments and their satisfaction with Mindspace
Requirements
Do you have the following experience?
● 2+ years experience in B2B sales
● Excellent team player
● Strong Extensive experience working with various companies and stakeholders
● Strong oral and written communication skills both in English , and Dutch fluency is a plus
● A 'can do' approach!
● Experience in Co working, Real Estate or Hospitality industries - a plus
● Applicant must be eligible to work in the EU
Critical competencies for success:
● Multitasking is a must! You must be able to balance multiple projects at the same time and adhere to strict deadlines (strong time management skills are key)
● Good interpersonal skills
● Hangry for sales and a desire to meet and exceed KPIs
● Getting the job done – no matter the cost – is critical. You should be a practical, creative, quick thinker who is aware that others are counting on you!
● Ability to work independently based on targets and goals, and raise any flags in time
● Ability to adjust quickly to a fast-paced, changing environment
● Ability to plan ahead with a clear focus on execution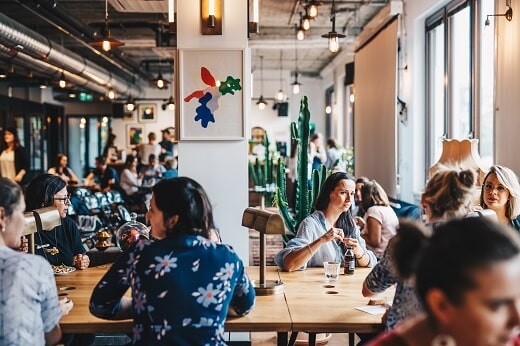 Join us!
Our benefits include marvelous weekly happy hours, discounts at various restaurants, lectures and events hosted by influential leaders or companies, and more!