Sales and Broker Relations Manager
Amsterdam
About The Position
Imagine your dream office... Now, try again.
Mindspace is a rapidly growing global provider of inspiring workspaces for teams of all sizes. Our community consists of enterprise companies and established startups, as well as small businesses, entrepreneurs, and creative freelancers. With members in more than 30 locations across 7 countries, we are setting the gold standard for flexible workspaces around the world.
Who is the Broker Relations Manager?
This full-time position is based in Amsterdam, reporting directly to the Netherlands City Lead. The Broker Relations Manager (BRM) is a hunter, responsible for increasing demand and converting strategic accounts to Mindspace clients. The BRM uses his exceptional communication and interpersonal skills to nurture great relationships with the brokers community, and utilizes his sales experience and passion to meet sales targets.
Your day at Mindspace.
You are the main POC for any related brokers areas in Mindspace, and need to make sure they know, like and appreciate working with us. You will also prospect for new business and sell the services that Mindspace has to offer. Working closely with the Netherlands sales team, BRM global forum and the Netherlands community team, your main focus will be all about increasing the demand for Mindspace, especially via brokers' leads and generating revenue.
What you will be responsible for, mainly.
Manage Broker Relationships and Partnerships to increase demand and revenue
Engage the brokers community with our brand and ensure they always have Mindspace in mind
Responsible for creating and executing a wholistic Brokers Strategy for Mindspace Netherlands
Onboarding new broker firms
Qualify brokers' leads and convert them to closed deals
Use data & Competitors analysis to identify trends and forecast future strategies
Creatively utilizing marketing budget to attract new partnerships with brokers and promote the Mindspace brand in the Netherlands
Responsible for brokers payments and their satisfaction from Mindspace
Work closely with the Netherlands Sales team and SDR team to ensure an effective and successful sales funnel
Requirements
Do you have the following experience?
2-3 years of relevant sales experience
Experience in B2B sales, lead generation, pre-sale processes, market research
Hands-on mentality
Familiar with real estate, specifically the flexible office sector - an advantage
Fluent in English and Dutch
Critical competencies for success.
A fiercely independent worker who does not shy away from a fast-paced, hybrid work environment.
You should be a motivated, self-starting individual with a strong work ethic, an understanding of how to work effectively as part of a team, and to have Mindspace's best interests at heart.
You are a people person, who can foster relationships easily and maintain them for the long term.
You must be a great communicator, able to convey messages in a clear and concise manner.
You should be organized and analytical at all times.
Fired up about Mindspace; you are ready to live and breathe Mindspace, spreading the love to everyone you encounter.
Please submit your application in English.
Mindspace is an equal opportunity employer.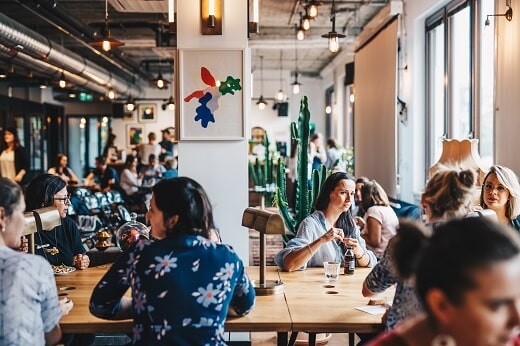 Join us!
Our benefits include marvelous weekly happy hours, discounts at various restaurants, lectures and events hosted by influential leaders or companies, and more!