Junior Accountant
Bucharest
About The Position
Who are we?
MINDSPACE is a rapidly growing global provider of beautiful and inspiring workspaces for teams of
all sizes: entrepreneurs, freelancers, growing startups, designers, service providers and more. We
offer flexible membership options, services and benefits to our members so that they nurture their
businesses in a workspace that is a community and not just an office.
Our sleek and beautiful spaces provide hassle-free comfort and convenience so our companies can
focus on what's important – their growth and development. With stunning meeting rooms, communal
kitchens, dedicated services and expertly thought out design, you'll love your new space.
FOR PEOPLE WHO LOVE TO BE INSPIRED.
We are Hiring!
Want to join our team? We're on the lookout for a shining star, someone who knows how to work hard
and play hard. MINDSPACE is looking for a Junior Accountant to join our growing family.
This full time position is based in Bucharest and will be responsible for all the day-to-day
bookkeeping, processing and accounting for Romania activity. The ideal candidate will have relevant
experience and be extra-motivated to go above and beyond to keep books in order and in time.
The main responsibilities of a Junior Accountant at MINDSPACE include (but are not limited to):
 Recording daily financial transactions
 Reconcile supplier statements with invoices and payments
 Daily bank reconciliation.
 Processing credit cards receipts
 Maintaining Ciel / SAP B1
 Billing and Collections
 Suppliers payment run
 Intercompany reconciliations.
 Perform monthly book closing processes
 Entering vendor payments into banking system
 Preparing monthly VAT and Withholding tax
 Administration duties
 Reporting to Romania Controller based in Israel.
Requirements
Experience & Minimum Qualifications:
 Degree in Accounting or Economics
 Basic bookkeeping/ accounting experience
 Proficiency in Excel
 Excellent organisational skills, ability to work to tight deadlines and a positive can-do attitude
 Experience with payroll calculations – an advantage
 Experience working with Ciel/ SAP B1– an advantage
 Excellent English and Romanian language skills are a must
Critical Competencies for Success:
 You must have strong data entry skills and a knack for numbers – be highly attentive to details
and keep your finger on the pulse
 Good organizational skills are key to getting you far in accounting, so things don't fall out of
balance
 You must be a thorough and accurate worker who is able to recognize errors when made, and
takes the necessary steps to correct them
 You should be a fast-paced mover with strong interpersonal relation skills, who is able to work
efficiently both independently and in a team
 Don't let rules confine you – thinking outside the box is necessary at such a role in such a dynamic
environment
 You must be a great communicator who is able to convey messages in a clear and concise
manner (in English and Romanian)
 Excited about MINDSPACE; you are ready to live, eat and breathe MINDSPACE, spreading the love
to everyone you encounter
Mindspace is an equal opportunity employer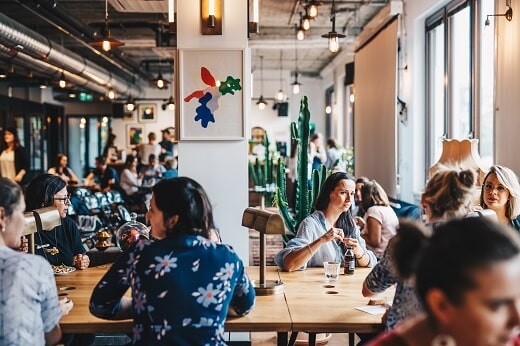 Join us!
Our benefits include marvelous weekly happy hours, discounts at various restaurants, lectures and events hosted by influential leaders or companies, and more!