HR Business Partner
Berlin
About The Position
Imagine your dream office... Now, try again.
Mindspace is a rapidly growing global provider of inspiring workspaces for teams of all sizes. Our community consists of enterprise companies and established startups, as well as small businesses, entrepreneurs, and creative freelancers. With members in more than 30 locations across 7 countries, we are setting the gold standard for flexible workspaces around the world.
Who is the HRBP?
This full-time position is based in Berlin and reports directly to VP HR. We are looking for a talented and passionate HR Business Partner to join our global HR team and provide end-to-end employee support in Germany.
An ideal candidate will have a deep understanding of HR processes and should possess and manage a various employee life cycle actions and serve as a point of contact for employees and managers.
Your day at Mindspace:
You will collaborate with managers and employees globally on a regular basis and proactively identify HR needs. If you are passionate about people, innovative HR solutions and process improvement this job is for you!
What you will be responsible for, mainly:
Serve as the main point of contact for general employee requests and questions
Leading an insightful HR strategy, recruitment, training, and consulting in your regions
Partner with our leadership team to profile the best candidates and refine the hiring process
Providing advice, guidance, and coaching to managers on all aspects of HR
Work closely with managers and employees to improve work relations, build morale and increase engagement and retention
Plan and execute HR activities in the employee life cycle
Resolve complex employee relations issues
Requirements
Experience & Minimum Qualifications:
3+ years of experience in an HR / HRBP role in a global company
Proven track record of successfully positioning as a trusted partner and impacting teams and managers
Experience with implementing broad HR processes
Able to develop strong relationships and influence a wide range of stakeholders within the organization
Team player who exhibits a consistent positive attitude and willingness to help get things done
Strong communication skills in German and English – a must
Critical Competencies for Success:
You must have strong (oral & written) communication skills
HR is all about people - strong teamwork abilities and interpersonal skills are a must for someone who will be actively interacting with talent!
You must be a fiercely independent worker who is proactive, innovative and able to think outside of the box; Creativity is key!
Every day should be viewed as a new opportunity to showcase high levels of energy & motivation – this is your chance to shine and show off your drive and enthusiasm with pride!
You should be able to effectively manage time and know how to prioritize tasks under a time-crunch: don't give in when the going gets tough!
Excited about Mindspace; you are ready to live, eat and breathe Mindspace, spreading the love to everyone you encounter
Please submit your application in English.
Mindspace is an equal opportunity employer.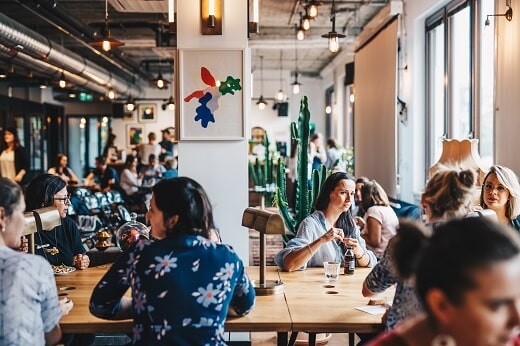 Join us!
Our benefits include marvelous weekly happy hours, discounts at various restaurants, lectures and events hosted by influential leaders or companies, and more!